Posted by Alex Sanchez on 13th Sep 2018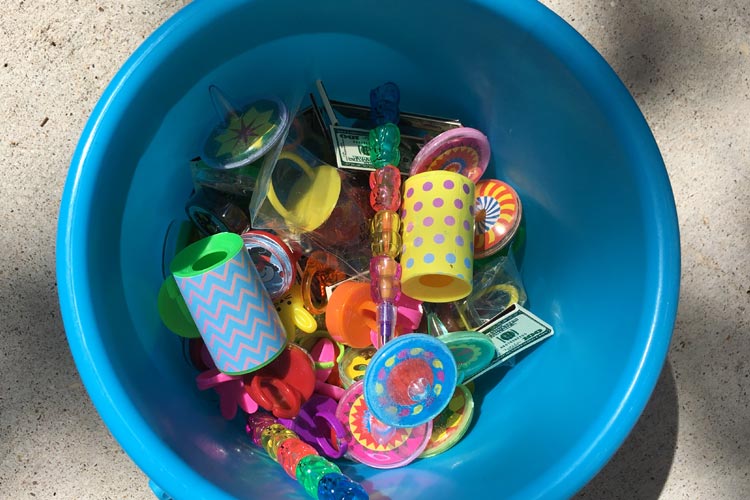 Don't Make THIS Common Prize Mistake At Your Next Carnival...
Many carnival planners, due to inexperience, accidentally make a mistake that ends up making the prizes less exciting for kids... and maybe costing extra money in the long run. With more than a decade of experience with kids' carnivals, we have learned that this "prize blunder" results in less excitement, disorganization, and plenty of time & money costs. Keep scrolling to learn what this big mistake is, and how you can EASILY avoid this at your upcoming carnival!

First, What Is The BIG Mistake?
Have you ever purchased a bunch of carnival prizes, mixed them all together in one giant pile, and distributed this random prize pile to ALL of your carnival game booths?
Mixing all or most of your small toys together and dividing them around to all your booths is NOT a "best practice" for carnival prize distribution!
If you have done this in the past, don't worry, because it's not your fault! Although, it seems like this method is a quick and easy way to make all the booths fair for the kids - this method is the worst way to pass out prizes, in our humble opinion!
You might also like:
See the main reason below as to why this is not a great idea for your carnival or festival. Plus, we have a quick & easy solution to fix this issue!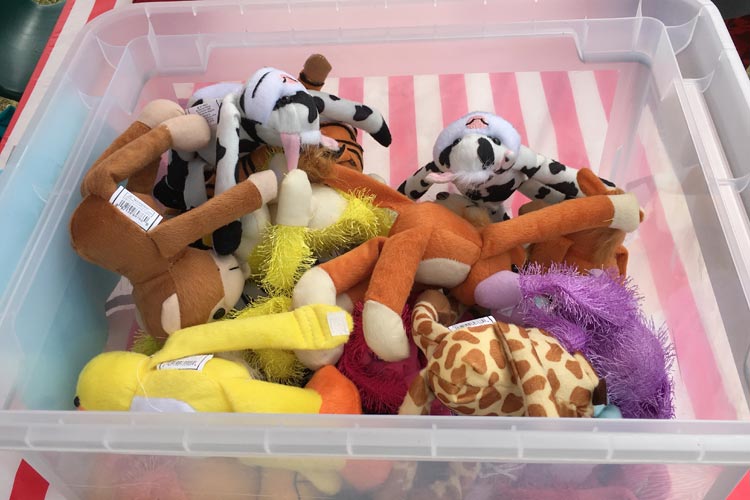 The above image shows unorganized Stuffed Animals in a Bucket - there is a better way!

So, Why Is This A Problem?
The main reason why mixing together ALL of your prizes (even if you separate the top and consolation prizes) doesn't work is that most children have a difficult time picking out a prize! This slows down the carnival game for ALL players if each child is taking a 3-5 minutes to choose each prize. Volunteers must wait for the child to choose a prize before allowing the next child to play the game. If you have ten kids each averaging three minutes to pick out their special carnival prize, this adds a 30 minute wait to your game line.
For adults, this may seem silly. Why can't kids just pick a small toy and move on? However, to children - these small toys are treasures and they want to choose the best one! We want kids to enjoy the prize and not feel rushed - so keep reading for our EASY suggestion!
Here are 4 MORE reasons why we DON'T recommend mixing together your carnival prizes into one massive pile: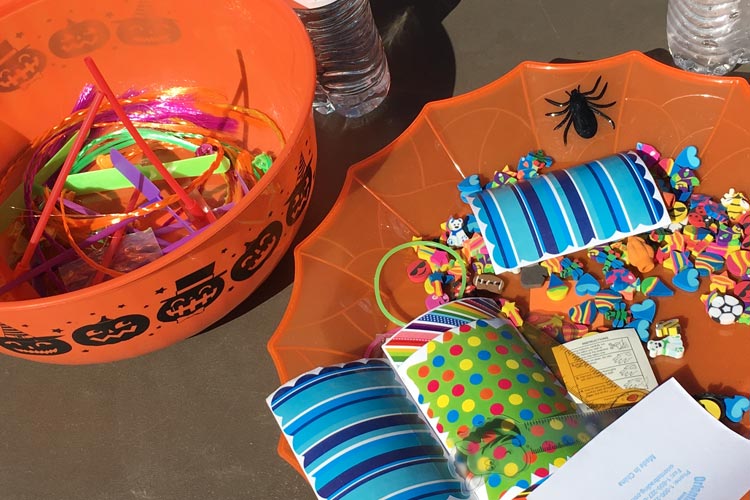 The above image shows Small Toys Mixed Up as Prizes - NOT RECOMMENDED!
1. It Makes the Prizes Seem Boring!
Ever notice how upscale stores carefully arrange their products to look beautiful and avoid clutter? This arrangement is very different than the disorganization and clutter of a thrift shop or garage sale. Presentation of product has a ton to do with how they are perceived, and the same holds true for carnival prizes! .
Of course, we are not suggesting you buy fancy cases or shelving, but you can lay out prize on a table for the kids to choose, or place in colorful prize buckets or baskets... of course you would put one type of toy in each bin!
2. The Toys Can Look Like LEFTOVERS.
Sometimes gently used stuffed animals are used as carnival prizes - and that is fine. But if every prize at your carnival looks like it was left over or used, that takes some of the fun out of winning the prizes.
You certainly want prizes at your carnival to look brand new when they are new! Kids and parents shouldn't have to wonder if the toys are old, dirty, and used. Everyone wants to win brand-new prizes, but unfortunately your prizes may look used if they are all tossed in a messy bin.
Also, some prizes (like necklaces) can become tangled and a huge "rats nest" when mixed in a bucket or bin. When kids go to choose a prize - they must untangle several toys just to find one they can keep!
3. Each Carnival Booth Loses its Uniqueness.
If kids play 10 games and see the exact same assortment of goodies that can be won, the novelty will certainly wear off. Doing so removes the fun and novelty from seeing different prizes that can be won at each booth.
On the other hand, having an unique prize at each booth also makes the kids want to visit each booth to see what else they can win! Sometimes, a child will see a really cool toy a friend won at a booth and ask where they can go for a chance to win one too!

4. Less Games Played = Less Profit.
This relates to the point above: if the same exact prizes can be won at all of your booths, then kids have less incentive to visit more booths! They'll use less tickets, and therefore end up spending less money at your fundraising carnival! So at the end of the day, having unique prizes at each booth may even increase the amount of tickets sold as kids want to go back to try to win that special prize!
5. Organizing Assorted Toys Later is a Hassle!
Most carnivals will have some leftover prizes and of course they can be put to use in many ways! Teachers love for you to donate some leftovers to their reward boxes and toys can be saved for next year's carnival too! As you can imagine organizing a massive pile of mixed prizes will be much more tedious.
If you do have a messy box of toys from last year - no worries - check out our Grab Bag Carnival Booth - this is a great way to use "unorganized small toys" for your carnival and the kids love it!
NOTE: Don't miss our big TIP With this booth that makes kids come back and play time and time again for the "leftover toys"!
The above image shows sunglasses arranged for kids to choose their favorite at a school carnival we visited! LOVE THIS!
How Can You Avoid This Mistake?
Simply plan your carnival so that EACH booth has DIFFERENT prizes! Of course, you can have a consolation prize and a top prize at each booth.
Note: some booths may have a middle prize or a few others as well.
Here at Carnival Savers, we sell our large carnival prize sets different from other folks. Others just sell a mess of toys in a bag (say 250 different small prizes) which makes it almost impossible to have the time to sort and divide out for unique prizes at each booth.
We sell all our large prize sets to allow easy distribution to each booth! Our bulk carnival prizes are a top seller for us - our customers LOVE them! Our team handpicks the small toys and they arrive to you in separate packaging so you will easily be able to pass them out to different booths! Be sure to set a few aside in case a booth runs out of prizes faster than anticipated - you can replenish with a new prize!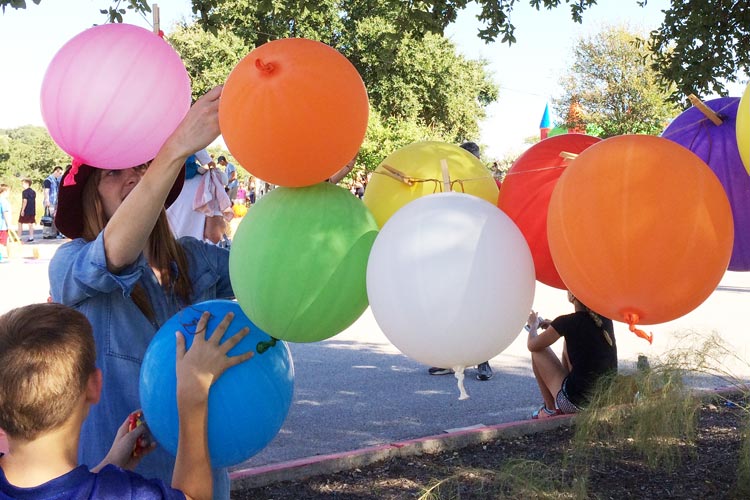 The above image shows a boy choosing a punch ball carnival prize.
For example: At your Bean Bag Toss Game - make it a little easier for the kids to choose by placing the "puzzle rings" as a consolation prize and "punch balls" as a top prize. This makes it easy for the kids to pick a prize and makes your carnival look organized too!
Here's another huge tip:
Be sure that you display the prizes visibly so that children playing games at your booths can see which top and consolation prizes are available to win! If kids want to win a specific prize at a booth, they'll know they can keep playing and have a chance at winning that one special prize.
Thank you for reading the Carnival Savers blog! Feel free to check out the rest of our blog for even more carnival hints & tips to save you time and money.